Strategic Alignment Certificate
Our Strategic Alignment Certificate Program is now available in both online and face-to-face modalities.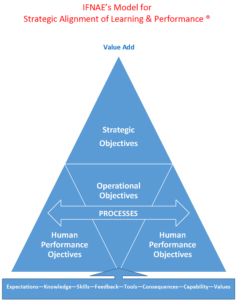 Strategic Alignment of learning and performance is a dynamic state in which the organization is able to use learning and performance improvement programs or solutions to achieve measurable business results. The best preparation for enabling organizational alignment and success is IFNAE's Strategic Alignment Certificate Program.
This is the most complete and rigorous program for building knowledge, skills, practice, and resources to align learning and performance improvement programs of all types to tangible business results your organizational executives expect. After completing the program, you will have support available to you from our highly acclaimed organizational alignment and performance improvement faculty. Our faculty are internationally recognized industry experts who also lead and teach in advanced graduate level programs in top universities and have extensive experience in applying the organizational alignment methodology across the world in all sectors.
Upon demonstrating successful implementation of the organizational alignment methodology, you will earn a Certificate in Strategic Alignment, joining other top professionals who have earned this elite certificate. No other program provides you access to the same level of expertise. Interested in signing up for the next session or learning more about bringing this program to your organization? Email us at info@ifnae.com or sign up for our mailing list to receive updates on IFNAE Academy offerings.
Who Should Enroll?
Anyone who needs the skills to ensure their learning and performance improvement programs contribute to the organization's strategic results. Individuals who will ultimately need to demonstrate business impact of other initiatives such as human resources, quality, process improvement, organizational change, and technology implementation will also benefit. Some specific job titles -but are not limited to- include:
Talent Development Business Partner
Senior Trainer or Training Manager
Learning and Talent Development Professional
Senior Talent Development Specialist
Human Resource Development Specialist
Organizational Development Consultant
Performance Improvement Consultant
Performance Analyst
What is included in our Online* Program?
Pre-Work: Identify a potential performance improvement issue or opportunity in your organization.
Webinars: A series of 6 webinars of 2 hours across a 3-week (2 per week) period to build your skills.
Coaching: Support for transfer of skills to your work setting with 8 hours of coaching as you implement a strategic alignment project. An additional 4-6 hours of time for review and feedback for your strategic alignment project.
Online Learning Materials: You will have access to a learning guide and other instructional support tools to build your knowledge.
Guides/Templates/Tools: You will have permission to use and reproduce our list of nearly 30 strategic alignment tools.
Our Latest Book: You will receive a complimentary copy of Partner for Performance: Strategically Aligning Learning & Development, published by the Association for Talent Development (ATD), 2017.
Community of Practice: You will have access to learn and share with other participants who are going through the program and applying the Strategic Alignment process in their organizations.
Strategic Alignment Certificate: An elite credential that communicates to your organization's executives that you understand the strategic priorities and are capable of delivering business results.
       *Note that this program is also offered on-site for groups of 6 or more
Certificate Benefits
A validated process for becoming a credible and valued strategic partner.
Demonstrate the ability to align learning and performance improvement programs to business results.
Obtain a Strategic Alignment Certificate (upon successful implementation of the strategic alignment methodology).
Sought-after skills that will make you more credible and valuable to your organization's executives.
A credential that will differentiate you in a competitive labor market.
What you will achieve
You will apply the Strategic Alignment methodology
Get detailed hands-on experience with every step
Become a valued business partner within your organization
Practice how to translate requests for predetermined learning and performance solutions into consultative problem-solving partnerships
Identify measurable operational and strategic needs and opportunities
Improve your influence over important decisions and resources
Collect useful data that helps you identify the driving causes for human and organizational performance gaps
Select learning and performance solutions that deliver measurable results
Select the best transfer strategies for ensuring your learning and performance programs are sustainable and deliver long-term positive results
Practice how to effectively coach and support organizational members who are key to the success of your learning and performance improvement programs
What you will learn
Discuss with your stakeholders the value strategic alignment brings to the organization
Choose the most appropriate strategies for effective consultative meetings with your stakeholders
How to use and adapt a wide range of strategic alignment job aids, tools, and templates
How to identify meaningful performance indicators to measure and demonstrate results
How to choose the right focus for a needs assessment
How to conduct a performance analysis
How to select the most effective learning and performance improvement solutions
How to align learning and performance programs to strategic objectives
How to develop implementation and transfer strategies for maximizing results and sustainability of your learning and performance improvement solutions
How to effectively coach your stakeholders and build ongoing support for your strategic alignment efforts
2018 Online Program Dates
Winter: 11AM – 1PM U.S. Eastern Time, March 7, 9, 14, 16, 21, 23

Spring: 11AM – 1PM U.S. Eastern Time, June 12, 14, 19, 21, 26, 28

Fall: 11AM – 1PM U.S. Eastern Time, October 30, November 2, 6, 9, 13, 16
How to register?
Please contact us for additional program information, scheduling, and fees: info@www.ifnae.com
Or sign up for our mailing list for updates.
Course Materials