SALD Certificate Webinar 1 (W18)
March 7 @ 11:00 am

-

1:00 pm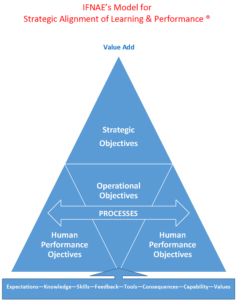 Strategic Alignment of learning and performance is a dynamic state in which the organization is able to use learning and performance improvement programs or solutions to achieve measurable business results. The best preparation for enabling organizational alignment and success is IFNAE's Strategic Alignment Certificate Program, a unique blended learning opportunity that integrates face-to-face interaction via webinars along with experiential learning activities and online content.
This is the most complete and rigorous program for building knowledge, skills, practice, and resources to align learning and performance improvement programs of all types to tangible business results your organizational executives expect. After completing the program, you will have support available to you from our highly acclaimed organizational alignment and performance improvement faculty. Our faculty are internationally recognized industry experts who also lead and teach in advanced graduate level programs in top universities and have extensive experience in applying the organizational alignment methodology across the world in all sectors.
Upon demonstrating successful implementation of the organizational alignment methodology, you will earn a Certificate in Strategic Alignment, joining other top professionals who have earned this elite certificate. No other program provides you access to the same level of expertise. Read the full course description here; we will begin taking registrations soon.
For more information, email us at info@ifnae.com or sign up for our mailing list to receive updates on when registration opens as well as other IFNAE Academy offerings.
2018 Online Program Webinar Dates
Winter: 11AM – 1PM U.S. Eastern Time, March 7, 9, 14, 16, 21, 23

Spring: 11AM – 1PM U.S. Eastern Time, June 12, 14, 19, 21, 26, 28

Fall: 11AM – 1PM U.S. Eastern Time, October 30, November 2, 6, 9, 13, 16